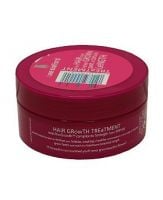 Lee Stafford Hair Growth Treatment
As low as
A pleasant surprise

I'd never heard of this product or the brand, and bought this on a whim. It is thick and the directions instruct you to rake an egg-sized dollop onto your hair, where you leave it for a few minutes. It promises soft, silky hair that will grow past "that certain length" that your hair has otherwise always stopped at. I used the whole container, and each time, my thick, curlyish hair felt soft and s...read moreilky and had a nice bounce the way healthy hair should. I'm not sure about the growth rate, but my hair grows quickly anyway. The scent is heavy an musky. I don't mind it, but some might, which is the reason I'm docking it one star.

I love this hair treatment

I bought this on a whim from Ulta and would definitely buy it again. Every time I use it, my hair feels super soft and feels hydrated. The only down-ish side to the product is it kinda smells like some sort of men's cologne. It doesn't bother me and it isn't overpowering (like if you just walked into a room where a man has sprayed tons of Axe -- not that type of smell or overpowering scent) howeve...read morer it is noticeable to me most of the day. After I use it my boyfriend always tells me I smell like a man (haha), but it is a good-man smell. It tells you to use an egg size portion in your hair, and so it seems like you would run out of product relatively quickly, but I only use it maybe once a month or so, so it's lasted me a while. I wish it was a little less expensive, however I would definitely buy it again.
Back
to top