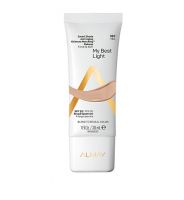 New Foundation Pick

Almay is a new product to me. I've mainly used full coverage foundation but as I've gotten older I wanted something lighter. This offers medium coverage with all the full coverage advantages. I love the fact that I put a few dots on my face - blend it in and voila it matches my skin tone perfectly. I actually get a "glow" when I use this foundation. I love the fact I can also use it as a light con...read morecealer for under my eyes and it doesn't cake, settle or enhance any lines or wrinkles. Perfect amount of coverage and its held up in the humid climate I experience during the summer. The other awesome thing is a tube will last you awhile since you don't need a lot of product.

Natural look

Light to medium coverage. The color really will perfectly match your skin. I love this foundation. I need a full coverage foundation (acne and scars) but I still prefer this lighter coverage product because it isn't harsh on my skin. I have noticed clearer skin after swapping to this (doesn't irritate skin). The only downside is that you have to apply this foundation with your fingers. So make sure you wash those hands first!

New Fave!

I was totally skeptical about this stuff! I mean how in the world is this supposed to match my crazy skin color...well it did and it does and it's now my "I can't and won't live without" product! So much so that I also purchased the blush - which I love! My skin has gone through and keeps going through changes as I age. What worked for me in my 30's isn't working now so I have to see what else...read more is out there and my skin concerns change as well. This provides me with even coverage that looks amazing on. My skin actually glows with it. Doesn't get cakey - even around the eye area, doesn't streak, doesn't separate and "fall apart" and the color is simply perfect! LOVE THIS!