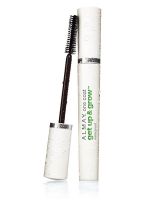 Almay One Coat Get Up & Grow Waterproof Mascara
As low as
I didn't realize the brush was so huge.....

I needed a good waterproof mascara for my bottom lashes since my NYX Doll Eyes waterproof mascara was running low. I was going to choose this or the Revlon Grow Luscious waterproof mascara during Ulta's 40% off of Revlon, Almay, and Physicians Formula. I decided to go with this one since Emily Noel on YouTube loves the original non-waterproof version of this. I figured it might work the same. I al...read moreso like brushes that are more hourglass shaped for my bottom lashes since I find that the curve in the middle really does a great job of depositing color. Since the picture on this package showed a hourglass-shaped brush, I decided to try this out. When I finally opened the package I didn't expect the brush to be big almost like the Too Faced Better than Sex mascara. I wish it was smaller so I can reach my bottom lashes more easily. I love how the formula of this is not super watery and it has a thicker consistency so it does a great job of holding a curl. This mascara is a little clumpy which didn't look too bad like tarantula lashes. I hate clumpy lashes but lately that seems to be the trend nowadays that rocker spiky lash look. This stuff will not budge and is very difficult to remove. I hate how this stuff flakes too. I always have to check in the mirror to make sure my face is not covered with mascara fallouts. I love this as a curling mascara since I can use this without curling my lashes first. I'm torn whether I should return this or not since it holds my curl so well but flakes a little bit:-/ But for sure I at least want to try the original version since I like the brush on this for my top lashes.

Hate hate hate

Did I mention that I hate this stuff. It is super flaky, and didn't make any difference in the health of my lashes. If anything it made matters worse, because it was sooo hard to get off it pulled lashes out with it. Yuck!
Back
to top