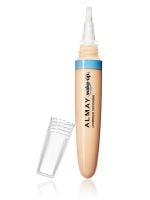 Didn't like this....

Not too impressed only because this concealer didn't do much for me. I like the cooling sensation this concealer gives but as for coverage, it didn't cover my dark circles at all since the coverage was way too sheer to be a concealer. I'm surprised everyone on here said this concealer gave them coverage. I have the light/medium shade of this and it has an orange tint to this, not yellow. Definitely not flattering at all. I ended up giving this to my sister if she would like it better.

One of the best

When I brought this product I wasnt sure how it would look as it looks really yellow toned in the packaging, however once you put it on it is a really nice colour and blends really well too, definitely covers up any dark circles as the yellow undertones counteract the purple. Doesnt dry up or crease, im really impressed with this product and would definitely repurchase this! It gives such a nice healthy glow to the undereyes and makes those circles disappear. 9/10

More of A Brightener. . .

FIRST OF ALL, the only reason why I said I would not buy again is because I rarely buy products twice. Don't get me wrong, this is a nice product and covers undereye circles. However I just feel that it dries under the eyes, ad that is sooooooo unacctractive. It makes me look tired and old so you MUST apply a a lot of moisturizer/primer before you apply the product. And do not put powder over it.
Back
to top