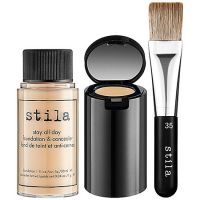 Cakey

I wasn't really impressed with this. Yes, it has a built in concealer which is great, but this baby oxidized on my skin so badly that it looked like I had on a mask! I'm not saying that this won't be great for everyone, but it was not my cup of tea.

Used to use MAC

I used to use Mac studio fix liquid foundation until I started working at Ulta. Now I absolutely love this foundation & will not go back to using MAC. This foundation is made w/ out any mineral oil or parabens. It comes with the best concealer in the work d if u love full coverage & it feels wonderful on my skin.

Staple foundation

Just like the other reviewer, I also used to use the oil free make-up forever foundation. I went to Sephora to buy another bottle and asked the sales woman if she could match me to the right shade since my skin tone changes throughout the year. She said she also has shiny/slick prone skin and suggested the stila all day foundation. I'm so glad she did. This foundation blows any other oil free/oil ...read moreabsorbing/24 hour foundation that I've used out of the water and I've tried quite a few. I used to have to whip out my blotting papers within 2 or 3 hours of applying my make-up and now I can go a full 8 without a touch up. Even my boyfriend notices the difference when I'm tight on money and have to settle for a cheaper product. If you have oily skin and struggle to keep your makeup on your face this is a must try!