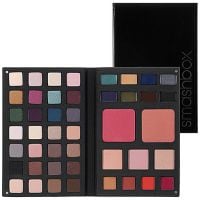 Smashbox Master Class 11 Meet the Masters Palette
As low as
A SPECTACULAR Palette from Smashbox!

Ah, palettes. I've discussed them before--yes, I am an addict. Want my attention? Simply pull out a palette. Want my devotion? Buy a good one for me. I attribute my compelling, powerful love of colors to the fact that I paint as an avocation. I delight in mixing shades and creating beautiful new ones. Sephora first offered Smashbox's "Meet the Masters Palette" in December. For what is con...read moretained, it is a true bargain at $59.00. But I was buying Christmas gifts for family and friends then and debated long and hard whether or not to indulge on myself--of course I did! And I'm so very glad I did. This palette packs a punch, chock-full of products in hues so creative, so becoming for any woman that I hope you'll purchase one as well. Let's start with the shadows. They are Smashbox's famous "Photo Op" variety--finely-milled, deeply pigmented, with a sumptuous texture and staying power. The lighter tones are fascinating. I am drawn to "Opal," a light pink base with a holographic appearance. "Flirt" is a sheer, gleaming beige, perfect from lid to brow bone. "Linen" is an ecru with some added lustre. And then there are the dark ones: "Serpent" is a glowing deep forest green. "Haze" is a lovely matte mix of purple-tinged grey. "Roast" is a delicious deep chocolate with sheen. My favorite? "Aubergine." It is the most seductive matte purple permitted by law. Accompanying creamy eyeliners are equally intriguing, from "Picasso" (midnight blue) to "Midnight Purple" and "Image" (a gold-infused moss green). Four "Brow Tech" powders are incorporated in the palette (what else could you possibly want?). Two large pods of blush are included with subtle sparkle--"Posy Pink," a shade so rosy, SO LOVELY that people have asked me the secret to my lit-from-within glow. Another is a pretty "Warm Apricot." Smashbox's much-touted "Soft Lights" highlighting powders are included to give a natural flush to face and décolleté. They come in "Lens" (peach), "Prism" (delightful pink), and "Shimmer" (beige). Add to this fantastic mix four rich, non-sticky lip glosses: "Bitten" (muted rose), "Guava" (perky apricot-rose), and "Mulberry" (perfect berry). Top any of them with "Buff," a nude gloss with a gold base. How to make purchasing this can't-miss kit easier for you? There are forty-five (count 'em) amazing products. Divide $59.00 by 45 and you are only paying about $1.30 per item! And you'll be mistaken for "Miss America" while wearing them. Now what are you waiting for? Head on over to Sephora or logon now for this SPECTACULAR DEAL!

An Amazing Collection of Colors

I received this as a Christmas gift and was blown away by all of the fantastic colors. They are soft and velvety and blend easily. Just about everything a woman needs is included here, from blush to eye shadows, creamy eyeliners, color for brows, and lip glosses. For the price, it actually is a STEAL!
Back
to top