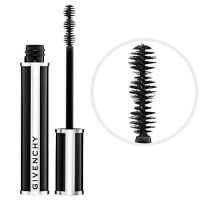 Givenchy Noir Couture 4 in 1 Mascara
As low as
Wow

I was a diorshow girl for years. Got a sample of this from sephora and boy did this blow diorshow out of the water. It's non clumping which was my only complaint with diorshow. It makes your lashes longer, thicker and curler. It's quite pricy but no doubt worth it if you don't mind the price. In comparison to all the mascaras going for the $25-$35 range I'd definitely go with this.

Givenchy Noir Couture 4 in 1 Mascara

I just received as a sample as well. I gave this a 9 because it makes my lashes longer, thicker, and a little curl if you use a lash curler. I am very picky about my mascara because of allergies. This one was fine! A cinch to remove. I'm trying to get use to the brush or I would have given it a 10!

Review subject

I just received this mascara as a free sample from Sephora. I have only used it one day but wow, do I already love it! It definitely gives length, volume, and thickness. I would have to say I didn't notice as much curl, but since that's never one of my main concerns, it doesn't effect my feelings on this mascara. I definitely recommend it!
Back
to top