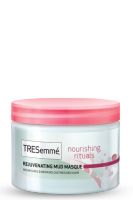 Where is the mud?

I pretty much run the gamut of beauty products; from drugstore, department store and everything in between. I always prefer drugstore; if I can get a product that works as well as a department store brand, for a quarter of the price, why not? Unfortunately, this is another hit or miss Tresemme product. My hair is long, and it tends to be a little coarse underneath and the ends a little dry, while ...read moremy scalp is on the oilier side. I wash my hair 3X a week and rather than using a traditional daily conditioner, I usually use a mask or treatment instead. I really wasn't impressed with this product; I suppose if I had normal hair, or my ends weren't dry at all, maybe it would work better? But if that was the case, would I really be scouting out a heavy duty conditioner at my local Walmart? Probably not. The texture is not what I expected; I guess I thought it would feel more like "mud," hence the name. I washed my hair and then left it on for 45 minutes with a shower cap. Ironically enough, my hair was a bit tangled after I rinsed. I really like the Neutrogena hair mask, I think it is triple oil something or another, but it is fab. I won't be repurchasing this one again. It left me unimpressed (and wondering how many "chemicals" are in mud anyway?)

Nice Product

Makes my hair nice and soft! Unfortunately, I need to use a lot at once to get any results.

Does its job, love!

This mask makes my hair incrediably soft. It also smells very nice. Its strange how the mask is an almost avocado-y like green. Pretty, but strange. Most masks tend to be white or a brownish color. At least from my expierence. But yes, definetely liked this mask. I don't know whether I will be repurchasing because I am seeking to try other masks and deep conditioning treatments as well.
Back
to top