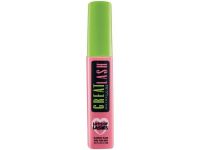 Really really great

I love this mascara. The brush is adorable, in a cute heart shape. It coats all my eyelashes, even the ones in the far corners. It also works magic on my lower lashes. The formula is great in Blackest Black. It's superdark and has no scent. With just a couple coats, you can get dark, voluminous lashes. I love Maybelline's mascara in general, but this is one of the best mascaras I've ever us...read moreed. I especially love that it conditions lashes too, so you get soft lashes when the mascara is removed.

One Of My First Mascaras...

Brings back a lot of fond memories for me, to first getting into makeup. Unfortunately, the nostalgia is better than reality when it comes to using this now. The bristles are hard and stiff, and the wand actually hurts my eyes while applying. This mascara clumps a lot for me, perhaps more than any other mascara I've used. Overall, I would not recommend it. There are other drugstore mascaras that are in the same price range but are much better.

Not worth the hype

It was the very first mascara I owned, but I was really disappointed! The brush/bristles are made of plastic. The way the brush is shaped makes the lashes clump so much. The formula is super wet, it takes a lot of time for it dry. It smudges on the bottom lashes, flakes everywhere too!
Back
to top