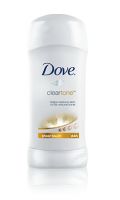 Dove Clinical Protection Deodorant

I received this as part of a gift from Total Beauty. The deodorant comes out the top by turning a wheel on the bottom. It is dispensed on top through some holes. I really liked this deodorant until the holes on top started getting clogged. Hence the rating of 9. I had to clean them out with a toothpick. But, on the other hand, I don't use as much product, which seems to be working. It is a go...read moreod anti-perspirant and is odor free. It really is effective because it works in extreme heat of 96+ degrees where I live. I worked at a big fundraiser and moved around a lot. I got very hot, but this deodorant really did its job. I highly recommend this product. Thanks Total Beauty.

Totally works.

Since I did not take very good care of my underarms as a teen, shaving darkened them a lot. I tried everything: lemon juice, baking soda, lightening creams, etc. So when I heard that Dove was coming out with a deodorant that helped lighten dark spots on the skin, I ran to the store to buy it. I've been using it everyday for the past two months and I can tell you it really does work. Of course I've...read more stopped shaving and moved on to epilating or waxing, it is way more effective. Anyway, my underarms are not as dark as they used to be, and the skin seems softer and smoother overall. I really like it. It smells good, nothing overwhelming. But, I have found that I have had to reapply if I am being active during the day. Another thing I didn't like is that it leaves white marks on my clothes. It's annoying. That's about it, but I've always had this problem with Dove deodorants. Other than the white marks on my clothes, the deodorant really works as far as making the skin smoother and "prettier". I love Dove even more. Highly recommended.

Didn't work for me

I used up the sheer touch one (yellow gold-ish color) and I honestly think there's no difference between the two besides the smell. I'm not a deodorant girl and I'm a stay-at-home mom so I don't wear deodorant when I'm at home only when I'm running my errands and it took me a while to finish it. I really didn't see any improvement maybe because I didn't use it everyday. The staying power was okay ...read morebut I'm not a fan of the smell. It's too musky-subtle-powder-ish kinda smell and I prefer a fresh fruity smell. Will not repurchase.
Back
to top