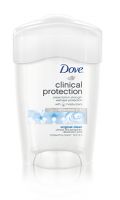 As good as any...

I usually use Secret Clinical Protection, but didn't remember that the last time I went to the store and bought this instead. It measures up about the same as the Secret, I think. I tend to be a rather sweaty person, especially as a runner, so I put this on at night after my shower, and then double up in the morning with a regular clear antiperspirant/deodorant. It's rare that I try to use this on...read more its own, because I just don't trust ANY product to be able to handle it...but when I do, this one does really well at preventing sweat and only the tiniest bit of odor. It has a smooth texture and only leaves white marks on clothes immediately after it's applied (which is fine, because I put it on at night and don't care if there's deodorant marks on my pajamas!). The scent is light and fresh, and not so strong that I feel I can't wear perfume, and there is also a decent amount of product in the tube. I follow the directions to apply just two clicks under each arm and it is lasting a long time. I like this well enough, I think I'll switch back and forth between the Secret version and this. I don't know if bodies really can get used to a product if used consistently, but with something like this it seems like a good idea to mix it up, just in case.

Horrible reaction!

Yes this keeps you dry for 24 hours, and yes, it keeps odor at bay, but this thing gave such a bad rash that I literally cried thinking I was actually sick! I am talking all over my armpits, my breasts... it was horrible and painful, and I didn't want to believe it was the deodorant, but my doctor confirmed that indeed it was. If you actually need the clinical protection, go to the doctor and get your recommendation from him/her. Don't risk it with this.

Wait till it's humid

After trying this for a couple of days, our conclusion was that we both found it to glide on, give full coverage and last all day with keeping smell at bay. I found the embarrassing itchy armpits was gone after months of trying to figure out why. With there not being any aluminum chloride or alcohols, my skin was no longer drying out. This seemed to be one of those moments where I said, "Dah." und...read moreer my breath from having that oversight. One thing neither of us could get past was the stickiness about afternoon when it had gotten hotter. This could be from how the application is a cream instead of a solid, and could be from us just being accustomed to that.
Back
to top