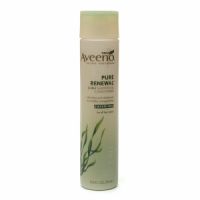 Aveeno Pure Renewal 2-in-1 Shampoo & Conditioner
As low as
Nice 2in1 Shampoo

Sometimes the 2in1 shampoos leave my hair feeling not so clean but this one actually works very well. I get clean hair that is conditioned in one step. I like that the scent is not overpowering just light and fresh. I have normal/dry hair with little damage so if you need extra care this may not work for you.

Good Enough

Ok, to be honest, if you blind-folded me and had me use this shampoo, I wouldn't be able to tell it apart from the rest of the Aveeno shampoo line. It's just as smooth and glossy feeling as the other shampoos, and you can't really tell that there's added conditioner. That being said, when you wash it out, it definitely doesn't feel as heavy as the others, and I really like the fresh feeling afterwards. So, not as amazing as I was hoping, but does the job well enough.

Hmm 2 in 1

This product has a very fresh scent which is lovely. But as all 2 in 1's it has no real benefit. They only work well for those with normal, healthy hair. But if you have oily hair, you don't need the added conditioning and if you have dry hair, the moisturizing agents in these 2-in-1 products are not enough. You need to use a separate, creamy (rather than clear) conditioner. To top this off look...read more at the labels of your normal shampoo if you find the ingredient that says Dimethicone then your regular shampoo is also a 2 in 1 in disguise. Dimethicone is added to regular shampoo to add conditioning that helps prevent the hair from being so clean that it feels dry. If you want a clarifying or normal shampoo then DO NOT use one that contains Dimethicone. Despite what it says on the label if a shampoo contains Dimethicone it is a conditioning shampoo.
Back
to top