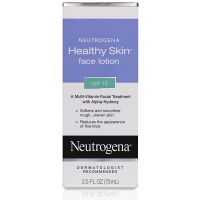 Neutrogena Healthy Skin Face Lotion SPF 15
As low as
I LOVE this face lotion!

I have been using this face lotion for two years now and nothing else compares. I can always tell when I miss putting it on in the morning, because my skin just doesn't feel right all day. The bottle isn't big, but it lasts a long time. A little bit goes a long way. It taks a few minutes to soak in after application, but is great as the first step of putting on makeup in the morning. My skin is so much healthier, smoother, and dewy since I started using this.

Review subject

I didnt know what to think of this product. The first week I used it, I hated it and then i loved it. since it has Alpha-hydroxy the first time I wore it on my face it did stung, a lot. Besides, its a little bit greasy after you put it -the product takes some time to soak in your skin- so for that reason,I wore it only at night. and then was the fact that i had to use sunscreen...i'm not so good...read more at that...but then came the love. my skin does looks great. i've been using this product for 2 months and my face looks even and flawless.
Back
to top