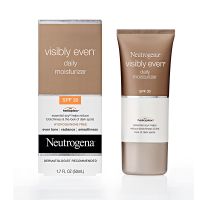 Not terrible.

I ran out of my usual Neutrogena SPF moisturizer and dashed into a Target in a hurry to replace it! Unfortunately, they were out of stock but I saw this tube and decided to give it a try. This is a very basic SPF - no real antioxidants, but also no stinging (in my experience) or white mask. It has its pros and cons. There is no real evidence that soy does anything, and I mean ANYTHING, for dark sp...read moreots (thank you to the Aveeno marketing team for starting this trend!). As decent as it is, there was no change in dark spots whatsoever, so if you are truly looking for that, I would keep walking by. There is a faint smell of "dirt" which is probably from the "soy." It's not pleasant but not particularly overpowering; it disappears in minutes. I wouldn't purchase again because I think there are better options out there; additionally, I am getting more and more into cruelty-free brands and Neutrogena just doesn't hit the mark there. :(

Neutrogena Visibly Even Daily Moisturizer SPF 30

I decided to try this product because I am an avid sunscreen applier and I always look forward to trying my next facial sunscreen. I have also suffered from acne scars for the majority of my life so anything that claims to even tone is particularly exciting for me. This product reminds me of the Aveeno daily moisturizer that also claims to even tone. I think the active ingredient in this product i...read mores mushroom. The bottle was small but around $12 at Walmart, which I guess is average for a facial sunscreen. The scent was somewhat unforgiving, I was not a fan of it. I used a small pea sized amount and rubbed it into my skin. Nothing amazing happened instantly and after finishing the bottle I did not really notice an improvement in my skin tone. While it did moisturize my skin, it is so oily anyway that my skin probably did not benefit from it as another person with normal or dry skin would. After this I tried the beauty balms meant for oily skin and while they are not ideal either, I do appreciate the coverage that they offer while treating my skin. I would not buy this specific product again but I applaud their efforts.

MEH

I got this Neutrogena moisturizer as a free sample from Crowdtap to try and I have been using this for at least 3 months. It claims to reduce blotchiness and the look of dark spots but I have not noticed any of my acne scars or dark spots fading. As a daily sunscreen moisturizer it does a good job to keep my skin feeling hydrated and not greasy. HOWEVER, it does stings a little bit when I'm applyi...read moreng this to sensitive areas of my face especially around the eyes and on the eyelids. It has a medium thick creamy texture that's pretty easy to blend out and quickly absorbed into the skin. Has no scent to it besides the usual sunscreen smell. I most likely will never purchase this again because of the burning sensation.
Back
to top