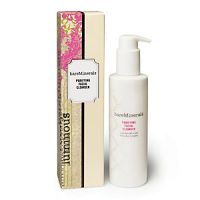 Feels natural

I really like this cleanser. It removed my makeup well and felt like a natural product. The smell is relaxing and reminds me of a spa. It didn't leave my skin feeling too tight, but it also didn't feel very moisturized. Overall a good product that I think would work well for all skin types.

One of the best cleansers on the market!!

I've been using this for about two years. A lot of people compare it to Philosophy's Purity Made Simple. Honestly, as a user of both products, I am far happier with this cleanser than I am with Purity. I have combination skin, so I use different cleansers for morning and night, and when my skin is acting up I use a product to really help with that issue before going back to this. I like that no ma...read moretter what, this is really good for my skin. It always leaves it soft and super clean. I use this with either of my Clarisonic brushes and the results are always really positive. Since switching to this cleanser, I break out less and my skin doesn't dry out as often, even during the blistering cold Winter months. I do use this with a few other Bare Minerals skin care products and I'm extremely pleased with the results all across the board. A bottle of this cleanser lasts me about 4-5 months, you don't need to use a lot to get your face clean and soft. I tend to use between 2-5 pumps to completely clean my face, which is probably too much product, but I never feel like one pump is really enough. I like that this bottle allows me to both open and close the pump, which helps prolong the life of the product. If you haven't tried this, I highly recommend it. It's a healthy cleanser, you don't have to worry about unnecessary chemicals, and it smells nice and fresh. To give this anything less than ten stars would be a grave insult.

It was alright

I like the lavender scent and I like that it is a "natural" type product. It dried out my skin a little too much though. I used this cleanser as part of the Bare Minerals "Youth Revealed" skin care system. In general, I wasn't too happy with the system. My skin was very unbalanced. I had oily, red, acne prone areas on my face such as on my chin and cheeks and then I would have super dry, peeling a...read morereas like around the sides of my nose. After giving it a full two month trial, I switched to another skin care system. The balance problem went away after I switched. I think the cause of the problem was that the cleanser was too drying, the cream was to greasy, and then the night serum created a bacterial breeding ground during the night. And then the price for this stuff compared to the benefits/results is outrageous! This cleanser reminds me of this stuff by Avalon Organics called Vitamin C Renewal Refresing Cleansing Gel, except the Avalon cleanser works better, is less toxic, is way less expensive and you get way more, too. Plus, you don't have to go to the mall or order online to get it. They might even sell it at Walmart, pretty sure they do. So overall, I would not recommend the Bare Minerals Purifying Facial Cleanser. It's a waste of money.
Back
to top