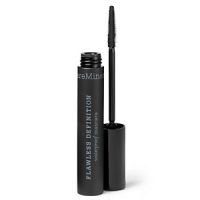 Big fan of this stuff...

When Bare Minerals released this mascara I was very happy to try it out. I like both the original version and this one, which is waterproof. It gives amazing length, volume, and coverage in one swipe and it's not messy. The wand is one of the best I've ever used and that's saying something because I am a mascara junkie. Sometimes I swipe the wand on clean paper towel to wipe off excess product, an...read mored other times I use it as is. This is one mascara that will perform and last you the full three months (you can go four on this one if you don't wear it every single day) without drying out or becoming a clumping nightmare. I always have a hard time parting with a tube because the product is still working, but as a precaution to my own eye health I replace this often. Truly one of the best BM products EVER!!

As mascara goes...

It's a great mascara. It's brush keeps lashes separated, it adds volume, it's very smooth. And that's where it's usefullness as a mascara ends. I shelled out $17.99 for this at the HEB Plus and relied on the reviews. So I was really disappointed after another hot (both kinds) night with BF in 100% humid Central Texas. Not as bad as the Revlon Photoready 3D - But it was almost completely off...read more the lashes and on the skin around an inch below. Seriously disappointed. I'll use it for regular stuff, but the quest for a really waterproof, sweatproof, smudgeproof mascara continues. If I can find the BAD Gal stuff, I might give it a try. The other BM products I did buy (figured I'd give it a shot) were the blush and some other products and starter kit. Love the blush.

Very disappointed!

Bought this product because it was highly rated for a trip to the Caribbean. Waterproof is suppose to be waterproof! I got raccoon eyes even when I wasn't in the water! I finally gave up & didn't even wear it when I was going in the water. My tube...which was purchased about two weeks before I left for the cruise...was gloppy when I pulled the brush out of the case. I had to scrape globs off ...read moreto put it on my lashes! When it went on it was nice; but if it won't stay on, it isn't worth it! I'm going back to Cover Girl!
Back
to top