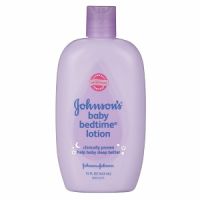 Johnson's Bedtime Lotion
As low as
Helps my son sleep!

I loveee this lotion. I take my son a bath every other night and use the Bedtime baby bath and this lotion after to give him a massage. It smells so good, not like the traditional J&J smell, but still great. I squirt it into my hands and rub him from head to toe, focusing on his thighs and back to relax him. It seems to calm him down and he relaxes while massaging him, and the smell is not ove...read morerpowering for him either. I even put a small amount in all of his hair as a way to keep the smell on him longer, but also because the lotion is moisturizing and traps moisture so his little locks are soft! I trust J&J for all my baby products and this is a great line for a bedtime routine. Try it!

So Light!

I can't use enough of this lotion! It's so gentle and non-greasy, just soaks right in and leaves a beautiful, almost glittery sheen to the skin! I use this every day on my eye area because it's the only product so far that has moisturized that gentle area without irritating or stinging or making it impossible for eye makeup to not crease. Because it's for babies, it's hypoallergenic and gentle eno...read moreugh to use anywhere on the body. I also apply this on my neck and dry portions of my face (jawline) as well as sensitive areas like my breasts and bikini line (yes, they need moisture too!) It's great for summertime when you need a light lotion and even better for wintertime. The smell is lovely and doesn't smell too much like a baby product at all! It smells clean and fresh, very good for nighttime and relaxing. I even love the size selection of the bottles. I buy the large bottles with a pump to keep at my vanity table and the smaller bottles to keep in my purse. It fits even in the smallest crossbody bags because of its slim design. Very simple, very effective, and very inexpensive (less than $5!!). I'll probably use this for the rest of my life, including on children!

My go to!

I've been using this lotion for years! The smell is so delicious. If you take a shower in the nighttime and put this on afterwords, it really does make you go to sleep. Ahhh I love it so much!
Back
to top