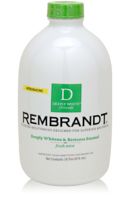 REMBRANDT® DEEPLY WHITE® + Peroxide Whitening Mouthwash
As low as
Okay, I'll probably continue use

Then again, there isn't a mouthwash that's perfect. I do notice a change in whitening. It tastes a bit weird, but it doesn't have alcohol so it isn't drying, It doesn't necessarily freshen my mouth. After gargling, I often I have to rinse out with water because this leaves a lot of foam in my mouth.

Performs as promised

As far as whitening products go, this one is easy to use, tastes good, and produces noticeable results. It does have a different texture than more traditional, alcohol-based mouthwashes, resulting in a foamy consistency. I noticed a general brightening of my teeth almost immediately; the whitening has continued over the several weeks of use, and I'm pleased with the results.
Back
to top