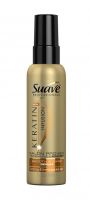 Works amazing on my thick wavy color treated hair

I use this every time I wash my hair and it helps leave my hair with the right amount of shine and smoothes out my hair so prevent as many fly aways when I am styling my hair. I am a huge fan of Suave's new line of Keratin infused products and use them regularly. And because I lighten my hair(it's platinum blonde) Suave's new lines of haircare products has helped to keep my hair healthy and happy....read more Now because my hair is very thick I have to use more of this product then is stated on the bottle. I had to try different amounts of this product until I figured out exactly how much I needed so that my hair didn't feel dry or oily after just being washed. But it was well worth it because my hair has never looked or felt better.

Awesome Product That Won't Break The Bank!

This stuff is awesome! I have dry, frizzy, dull THICK hair. Just two pumps before I blow dry makes my hair so soft and sleek and shiny. I love it! Can't beat that price either :)

Great product for the price!

I haven't started using the shampoo and conditioner yet, but the serum rocks! I blew dry my hair after applying it and got so many compliments about how shiny and straight it was! Big fan! I also have applied it on my dry hair to calm the flyaways. Will definitely try the shampoo and conditioner!
Back
to top