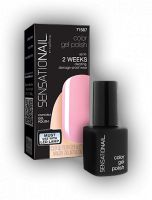 SensatioNail Invincible Gel Polish
As low as
hard to get product off

I'm new with the gel nails the first time I went into the salon and soaked them off at home, I did the cotton balls and foil it came off really easy then I bought my own kit the Sensationail kit and when I was ready to take them off I did the same method cotton balls and foil it took 3 hours to get the product off. Has any one had this experience with this product? I used the product again and it really damaged my nails this time!

MORE COLORS PLEASE!

I purchased the starter kit, and I am GLAD I did. I bought one of the new colors yesterday...it's a dark shimmery purple (sorry, I don't remember the exact name). One thing I wanted is a "sparkly" color, like a glitter top coat...finally they came out with some shimmer colors! I found them at Walgreens...they were on sale for $9.99, and the sales associate had a $2 off coupon which brought the reg...read moreularly-priced $12.99 nail polish down to $7.99!! I am very, very happy with the color, and it REALLY DOES last up to two weeks (or more), while looking like it was just done even a week later! Stays shiny and can take a beating!! I love this nail polish. I WANT MORE COLORS!!!
Back
to top