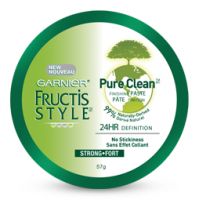 Garnier Fructis Style Pure Clean Finishing Paste
As low as
Just meh

I tried this for awhile for my pixie cut and it just wasn't my favorite. It probably just isn't a product that is meant for that type of styling. I had trouble figuring out how much was the right amount to use without making my hair look dirty and gross and the hold wasn't really as long lasting as I hope for from a hair product. The scent is nice and I'm sure the texture is great for other hair lengths/purposes.

Great for accentuating hair layers

Dude, my hair is layer city. This is a great product for it, and cheap to boot! It is $4 for a two ounce or 57 gram tub of hair wax. It doesn't leave my a white or greasy or shiny film on my hair, and seems to keep my hairs in place all day. Granted, I don't use it for heavy lifting, so I can't comment on that, but it's a nice, basic hair wax.

It's hard to explain what it does but it does it great!

So you're supposed to rake this through the ends of your hair to "define layers". I don't have layers, but I bought it for just the normal ends and it's just lovely what it does! It kind of separates clumps of hair and gives the ends that sort of beachy-windblown-salt-air look. Notice it's just the ends; don't bring it up to far or your hair just looks stringy. But it somehow brings a little bit of control and styling to my hair, and as a plus it's almost all natural ingredients! Yay!
Back
to top