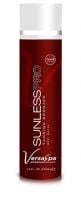 VersaSpa SunlessPro Tanning Bronzer
As low as
Didn't Like

This product was messy and didn't give me a very dark tan. It's an aerosol spray and got all over my floor! It did dry really quickly, which I liked, but the next day the color just wasn't dark enough. It didn't last very long either. I guess you could use it as maintenance between application of a self tanner that gets you darker, but that's a lot of work. So this one is definitely not one of my favorites.

this out-does them all!!!!

I never ever give a beauty product 10 stars, so rating this one 10 stars means IT'S GOOOOOOOD!!! I work at a salon and we have the versaspa spray tan machine which I have to say is absolutely amazing!! If you guys haven't tried it yet...TRY IT! you won't regret it. I do the versaspa once a week and ive always gotten great results. As the spraytan does eventually fade away...I needed a touch up spr...read moreay to use. I've tried many sunless tanners (banana boat,loreal,sun laboratories,etc.) They worked ok but they always made my hands orange and I hate using gloves. So the makers of the versaspa suggested a product that they had which was a spray in a can. And the first time I tried it, I was in shock!!! No one has ever made a sunless spray product that was sooooo easy to apply. You don't even have to know how to spray. It automatically sprays evenly. A very light spray mist comes out and you just spray everywhere on your body. Gets everywhere! And it smells amazing! Doesn't leave you looking orange either! I apply it once a week and it lasts throughout the entire week! You have got to try it!!! Nothing else can compare!!

GREAT!!

I have not had any spots and it sprays on perfectly! LOVE IT!!
Back
to top