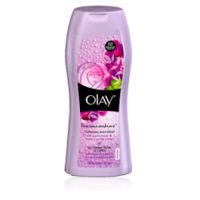 Good enough

I got a 3 pack of this from BJ's so it's a good thing I like it ok! The scent is rather strong, but I feel that most of it rinses off and right down the drain. I don't mind it--it is definitely heavy on the orchid--but I haven't noticed my skin carrying the smell after my shower. It foams very nicely and is moisturizing enough that if I'm feeling lazy, I will shave my legs with it and it works pre...read moretty well. Like another review, when I do this I still have to put lotion on my legs after the shower. This shower gel is also a bit runny, so I have to be very careful or I get way more than I need out of the bottle--and it does foam enough that I don't need a lot, especially if I'm using my mesh shower puff. Overall it's nice, but once my 3 pack is gone, I will probably try something else.

Cleansing and light

This is a nice cleansing product that leaves light moisturizer. It will not leave your skin feeling like their ribbons shower product. I like that it doesn't leave a residue and foams up nicely. The scents are pretty strong, and I wish they came in more options.

21 Best Soaps

Exclusively from the editors at Total Beauty

Get the Buying Guide to see these top-rated products!

Get it now »

Nothing to complain about...

But not necessarily any major wow-factor either. It is nice and does the job; the orchid leaves skin smelling sensual. Their is not much moisture if any in this, so I would suggest using for Spring and Summer. It has mica in it which leaves skin luminous. Works just fine. Does what it is supposed to do.
Back
to top