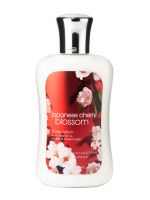 Bath & Body Works Body Lotion
As low as
Sweet & Spicy

The body lotion by Bath and Body Works for The Japanese Cherry Blossom fragrance is both spicy and sweet and I have noticed that if you put too much on you can get a massive headache. At least that's what happens to me. If you just put a slight touch of the lotion at your wrists and above your knees you might be okay but seriously… Don't overdo it. Your brain might not be able to take it.

Japanese Cherry Blossom

I just didn't really like this personally, even though it's supposed to be their #1 bestselling fragrance. ;c For me it's just an overwhelming bunch of florals. It's weird that this is too floral for me because I usually love love love florals. Like the other reviewer said, it's a spicy and sweet smell. The lotion is of a good quality: moisturizing enough, absorbs quickly, doesn't feel greasy.
Back
to top