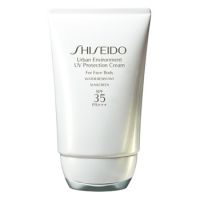 Shiseido Urban Environment UV Protection Cream SPF 35
As low as
Wonderful Moisturizer, Sunscreen, and Luminous Makeup Base!

This Shiseido product is completely unique and a beauty must-have UNLESS you have oily skin. It is a tad thick but has an SPF of 35 (35--think how well you'll be shielding your gorgeous face!). Hold on, as this gets better: This dream cream is water-resistant and also meant to be used on other parts of the body (neck, décolletage, hands, wherever it is needed). Are you still holding? It is p...read moreowered by a Hydro-Restoring Complex with nourishing amino acids which provide intense hydration. Thiotaurine (an antioxidant amino acid derived from the thyme plant) protects against everyday skin stressors with its properties. Rose Apple Leaf Extract prevents DNA skin damage which can lead to additional premature aging, cancer, and weakening of the immune system. Scutellaria Baicalensis Root Extract (say that quickly three times!) protects your fibroblasts from damage (these are common cells of connective tissue which synthesize collagen and play a large role in wound healing). Once again, this cream has a little heft, but that does not it from being readily absorbed into skin in a totally non-greasy, non-oily manner (it works very well under foundation). If you fear this, begin with the smallest amount possible and add until you've created a dewy, soft finish for makeup. Keep in mind that you are applying both a moisturizer and a full-blown SPF. Any leftover can be put on dry areas. I love the fact that it is water-resistant (hard to believe, but beach/pool days are approaching). More than anything, "Urban Environment UV Protection Cream" acts as a CC product as well. My skin doesn't turn white because I've learned how to apply it, but it has a gorgeous, lit-from-within radiance which enables me to go out without makeup if I wish (how cool is that?). My husband used it as a moisturizer and said to me, "Look how young I look!" I love this cream. Yes, it is different. Embrace the difference and reap multiple benefits.

Worst sunscreen ever

I got the newer spf 40 version and it is so thick it took forever to blend it in. Then it just left a sticky/tacky white film. Impossible to use. Returned.
Back
to top