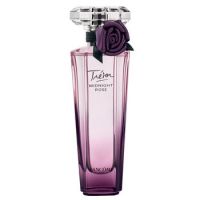 Rose

I was at the mall the other day and sampled this fragrance. It was dark and rich and definitely not a springtime scent, which I was actually looking for. It's my own darn fault, but with such reviews I was expecting a fragrance more feminine. The perfume. however, is dominated by Rose. That is the extent of the femininity. The Rose.

Sweet and powder

Lovely smell ) so sexy.... I like powder smells, they are very domestic and cosiness. I like this smell more in cold monthes than in warm.

On my 3rd bottle

I was wanting Lacomes GWP, but a certain amount had to be spent to get it. I love perfume and figured I would find one that I might like. Tresor midnight rose was the only one I could tolerate the smell of, but didn't love it, but bought a small bottle anyways. I'm on my 3rd bottle now, I've recieved more compliments when wearing this over any perfume I've ever owned. I've gotten compliments from men and women of all ages and race. Now it's a must have.
Back
to top