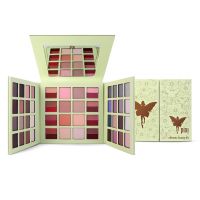 Pixi Ultimate Beauty Palette
As low as
Ultimately Beautiful and Useful

So I'm addicted to palettes--we've established that in other posts. I'm always pursuing a palette that gives me everything I need in one package. I'm sure you have great ones, mediocre ones, and others you wish you never bought. Put Pixi's "Ultimate Beauty Kit" in the "great ones" category, as it's a palette which works for nearly all women, especially those with fair to medium-toned skin. T...read morehis palette was designed to transform you from drab to fabulous easily and in a short time. Eye shadows (thirty-two in all) are divided into two sides, with neutral/brown colors on the left (these would greatly please the fans of the UD "Nude" palettes in matte, satin, and gleaming finishes, although there isn't quite as much shimmer as there is with UD). They are lovely, from nude to suede to copper to delectable, irresistible deep chocolate browns. On the right side are "cool" colors including everything from gentle pinks, peach, and white to purples, greys, and unique, intense, inky blues and amethysts. The finishes vary with these as well. There is no black, but this doesn't appear to be a problem (most likely everyone reading this owns a black shadow). Pixi shadows are well-pigmented, finely-milled, and apply and blend professionally. There are a number of sheer- to medium-pigmented blushes, all with subtle, wearable, flattering sheen (eight in all). Add to this gorgeous mix sixteen (yes, you read that correctly) medium-weight lip glosses. They are completely non-sticky and vary from totally sheer to pale to tan and subtle pinks to all-out glamour hues in mauves, berries, browns, reds, red-browns, and burgundy. The glosses have a minty scent and flavor which dissipates quickly, but the glosses wear a long time. The palette sells for $40.00 at Target and online and is made of a heavy tri-fold heavy cardboard. Open and be amazed. Be very amazed. When you use these colors, you will be transformed directly to gorgeous.

Very nice product!!

This palette has lip, eye and cheeck colors they are very neutral shades I recomend for the eyeshadows always use a primer because they are very powdery and by itself the color just desappears and the lip glosses have kind of a minty smell so overall I do think this is a great product.
Back
to top