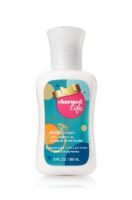 Bath & Body Works Charmed Life Body Lotion
As low as
Sweet

This particular scent is quite sweet. I find that it smells sweeter in lotion form than it does in cream form.

Totally love it!

Lovely scent, very girly!

Sweet and perfume-y at the same time!

This one has a particularly sweet smell to it at first when you apply it onto you skin, and then a perfume-y smell sort of mixes in. It moisturizes your skin a bit as you apply it. Great for daily use, whenever, but it gets a pretty strong smell if you use too much.
Back
to top