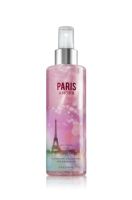 Bath & Body Works« Signature Collection Paris Amour Shimmer Mist
As low as
Bad Smell and Bad Shimmer

I got this as a gift, and I was super excited to try it out. Much to my dismay, it was horrible and I only use it when the person who gave it to me asks if I like it. The smell is strong and unpleasant and very chemically. It is like an industrial grandma scent mixed with bleach. It assaults my nose, and when I've used it the people I live with pinch their noses. I sprayed it lightly on my legs, h...read moreoping they would have a goddess-like, shimmery glow. The shimmer is more like full on glitzy glitter, and looks weird and unnatural. Even if spray it a foot away from me and walk through it, it does not have the subtle shimmer I want. I plan on pretending it spilled in my cabinet and throwing it away so I never have to use it again.

OK

So I just want to start off by saying that I got this as a gift for Christmas like 2 years ago and loved it. However, I also got 3 other perfumes including the one I had always been using so it didn't get much attention until about 4 months ago. The reason that I enjoy it is the fact that it does smell really good, although it is not something I would have necessarily picked for myself that being ...read moresaid. And the fact I had never used it, it took me a couple of days to figure out the right amount to actually use without offending anyone's sense of smell or my sense of sight. After I did it then took me about a week to really notice how many times I actually had to put it on for me to smell like it all day. I rarely exercise at all, and my job isn't all that physically demanding so that wasn't why I had to use it multiple times. My assumption was that it was me but after a little while I slowly began to realize that the spray is not very long lasting. It lasts only a couple of hours whereas my previous perfume lasted all day. But other then that it is a really great smell so I will have no problem to continue its usage at least until the bottle is empty.
Back
to top