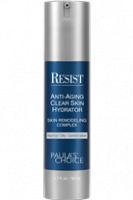 Paula's Choice RESIST Anti-Aging Clear Skin Hydrator
As low as
Awesome!!! Great for Combo Skin

My hormones went crazy after having a baby. I had dry spots (especially in the winter) and wrinkles by my eyes and was breaking out in zits in my t-zone. This product is miraculous. This moisturizer solved all of my problems. It is fragrance free and does not irritate my super sensitive skin and is very reasonably priced.

Good for the Price buy

I like this product, though I can't say I can see any difference. I don't really have wrinkles yet, except when I smile you see 2 lines, but they go away when I stop smiling. This is a very low cost product and it does feel good after using it over the super antioxidant serum. For the price I do like it, but I haven't seen any improvement in my skin. I'm wondering if I'm allergic or certain re...read moresist products don't agree with my skin, but I'm hanging in their. I don't have sunspots, breakout or any skin problems aside from getting really dry during winter times. My skin is more on my Asian side, though it's starting to feel like my caucasian is making a breakthrough and terrorizing my once oily skin. The resist producst are geared toward all skin types, but if you get dry like myself or like to over do it on cocktails every now and then, You should try her Very dry or sensitive line. Now that it's winter, I think I need more moisture barrier based products. This would be good for spring or summer time.

If you don't know what to try anymore, try this one

I am in my mid 20's and I have struggled with acne and everything that comes with a combination skin since I've turned 12. I just figured that I am in my 20s and couldn't get rid of zits and very soon I will be adding a new problem on my list (face) - wrinkles. This is my to go moisturizer for night. It's loaded with great ingredients and it fights both against pimples and wrinkles .
Back
to top