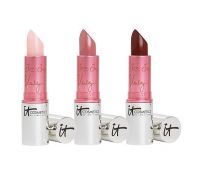 It Cosmetics Vitality Lip Flush Anti-Aging Lipstick Trio
As low as
Stunning, Revitalizing Color!

I admitted in an earlier blog that I am totally hooked on Tangee's "Color-Changing Lipstick" (a classic, available online from The Vermont Country Store). The silky-smooth formula protects my lips from hot and cold weather, provides a most becoming shade on my pout, often lasting longer than I do! There's a new and noteworthy product in town: It Cosmetics' "Vitality Flush 4-in-1 Anti-Aging Lip Sta...read morein." It is available in four hues, including my favorites: "Pretty Woman," a lovely, burnished pink and "Love Story," a soft, true rose. Also noteworthy is "Je Ne Sais Quoi," which provides just a hint of a very natural long-lasting tint. This gem won awards from "Total Beauty," "Daily Glow," and "Beauty Entertainment." Plum. Sunflower, and Cherry Oils, Shea Butter, and Jojoba hydrate and condition for hours; these are combined with the anti-oxidants Green Tea, White Tea, and Vitamins A, C, and E. Hyaluronic Acid, currently all-the-rage in moisurizing, is included to keep your lips buttery soft and glossy. How can you resist a stain which enhances and nourishes? You can't!

ok, but pricey

As far as I know, these are an exclusive at one of those big online shopping sites (I am not allowed to use the name but you can guess). They are supposed o be an anti-aging Lip Balm, Lipstick, Lip Gloss and Lip Stain. You might wonder how one product can do all of this, and so did I. There's a lot to like about this lip BB. I love the hydrating formula, and there are three flattering colors...read more: "Damsel" is a soft nude; "Pretty Woman" is is a deep berry , and "Love Story" is a flattering, medium rose. For those who just want protection and a bit of moisture, "Je Ne Sais Quoi" is clear. While the product does a lot for your lips, the one claim I'd dispute is that it's a lip stain. It's a lipstick/balm, but the color isn't translucent nor it is intense enough to call a stain. But that aside, it adds flattering color as a moist lipstick, along with a nice bit of glossy shine that's not too much. It will make dry, chapped, sun-worn lips look and feel better while it adds color. The pampering formula is silky, and features IT Cosmetic's patent-pending "Hydra-Luxe" Technology. The key ingredients in this are: plum oil, cherry oil, shea butter, aloe, argan & jojoba. All of these are known to be powerful hydrating ingredients. The lip product also has Vitamins A,C,E, Acai, Green Tea and White Tea, also known to be powerful antioxidants that help reduce the signs of aging and protect your precious skin. The products are made in the USA, paraben free, hypoallergenic, and non-comedogenic. They're nice, but not for the price.

Unbelievable!

I'm a recent convert to IT Cosmetics, and I have to say I haven't been disappointed yet. This lipstick goes on super smooth and gives me as much moisture as a lip balm. Even if the "lipstick" part wears off, it leaves a beautiful stain that doesn't dry your lips out! The colors adjust differently to everyone, so if one color doesn't work for you don't give up! Personally, I found Love Story and Da...read moremsel to be my best fit, but try them all! If you order from QVC you can always return the ones you don't like.
Back
to top