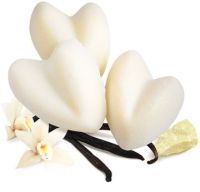 Lush Shimmy Shimmy Sparkle Bar
As low as
A really fun product

I love this product. It's fun, girly, and a nice little treat to buy yourself. It's definitely not something you NEED, but it's a good pick me up/go out and get glam sort of product. It's made with various hard butters (shea? mango?) and has glitter mixed into it. There isn't really any scent to it. You rub it onto your skin and your body heat melts the butter. It's a little messy but manageable. ...read moreThe amount of glitter is CRAZY awesome. It's iridescent and fairly fine glitter. This tends to pick up lint and fuzz, and looks dirty (I usually keep mine in a cute basket with soaps and bath bombs on the bathroom counter), so I would recommend keeping it in a plastic baggie or LUSH tin instead. The price is a little spendy for something so small, but it lasts a REALLY REALLY long time. I've already talked a few friends into buying it :) The only downside is that there is a slight residue on your skin afterwards--if you rub it in pretty well you can minimize that, although you get glitter all over your hands.

let it dry and you look fly!!

This is beautiful! You get a great shimmery look to your arms, legs, or chest. Great for any occasion! A tip from the store: add a moisturizer like charity pot and it creates a seal and the shimmy shimmy lasts longer.
Back
to top