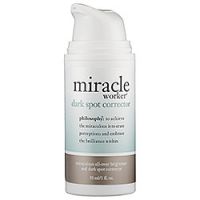 Dark Spot Corrector

This actually works for me. Had a few dark spots caused by sun damage on my face, and this product actually faded them. They are only very slightly visible, annd for that reason I rate this an 8.

Well, that was a lot of money to accomplish close to nothing!

Yes, this made my skin look somewhat "healthier" due to the antioxidants and such. But as far as lightening goes, I really didn't notice any difference with my pih scars and sun spots. Needless to say, I will not purchase this again. I tried this after being disappointed by two bottles of Clinique's Even Better Serum. Sigh. Just get a prescription for Retin-A by your dermatologist. You'll get much...read more better results (and for much cheaper overall if your health insurance helps out). Now THAT is showing major improvement with my skin!

Good product

I used to use Hydroquinone to lighten up the melasma on my face and arms but since stopped after reading the bad side effects. I was thrilled when Philosophy came out with a dark spot corrector that is paraben-free and natural. I tested it on a stubborns dark spot I had on my arm and noticed it lightening up significantly but it took a good month to see results. The only disadvantage is the pri...read morece. Its a lot more expensive than Clinique's dark spot corrector but Clinique is not paraben-free and that's a big deal to me. I wasn't going to buy it again but I searched around online and Amazon was selling it at a more reasonable price.