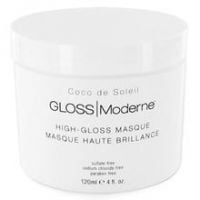 Gloss Moderne High Gloss Masque
As low as
Shiny, Beautiful Hair

This is a great hair masque if you want to add shine to your hair. It is pretty lightweight/not too thick and smells really good too! It made my hair very shiny when I blow dried it after the shower. The one thing I think that it is missing is extra moisture. I have thick hair and had hoped that it would make it a little softer and smoother.

Super shiny!

I recently got a sample size of this and I loved it! I don't know if I will be buying the full size because it is quite expensive, but I just might have to. First of all, this product smells amazing! It smells almost beachy, very shea buttery which I find very nice. Also you don't need to use too much to fully coat your hair which is nice. Most importantly, this masque did what it said it would: m...read morey hair is now super shiny! It's like I walked out of a hair commercial. My hair is also much softer. Another great aspect of this product is that even though I have very fine hair, it didn't weigh my hair down at all or leave any kind of greasy residue. Overall this product is awesome if you have dull or dry hair, or just want your hair to be soft and shiny. The only downside I can see is that it is fairly pricy, though you do get a lot of product that can go a long way.
Back
to top