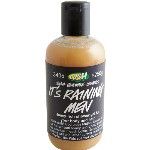 Lush It's Raining Men Shower Gel
As low as
Awesome

Just Wake Up and Smell this shower gel! This is a honey based body wash. Good for all skin types and smells wonderful! A small amount really suds up and is enough for washing your full body, head to toe! The scent stays close to the skin. Really delicious! If you are familiar with Lush's "Honey I washed the kids" soap bar, then you could consider this as the shower gel version of that.

Justashowergel but a great one

I have really sensitive skin. Sensitive everything, really, and finding a shower gel is usually a pretty tough nut to crack. But I got some of this for Christmas, so, like, a month ago and I think it's changed my life. It smells delicious and kind of citrus-y, but like all Lush products the smell is a little mysterious... what's in it? what does it mean? It lathers up beautifully so your showe...read morer is now soft and fluffy and amazing, and then it doesn't dry your skin out. I'm from Chicago. It's really cold and crappy and drying out there and I'm just walking around all soft and smelling like a sweet mystery.
Back
to top