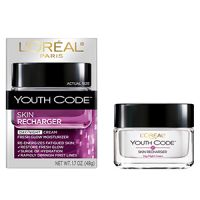 Makes Skin Touch-ably Smooth

This Youth Code Day/Night cream does wonders as a moisturizer/hydratant. The ten years of gene research really significantly shows a reduction in signs of stress, fatigue, and aging! The product can be used in the morning and evening, smoothing out the entire face and neck area. Although, I do not need anti-aging products, this day/night cream is the perfect prevention product as well. My skin fel...read moret noticeably luminous and smoother. The formula glides right on and I just can't stop touching my face. It really makes me feel like I'm wearing nothing because it's so lightweight, and yet the results of my skin just feels amazing. There really is not much of a scent associated with the product either, hence why it feels like I don't even have it on me at all. Lastly, my skin's complexion looks much more even and smoother. This product is a little pricey for a drugstore moisturizer but it definitely worth every penny.

My Skin is more refreshed!

I've been recently using the L'Oreal Youth Code Day/Night Cream as my nighttime moisturizer for the past few months and today I wanted to share my thoughts on it with you! I actually received a couple of small jar samples in goodies bags a few months ago but this particular cream does retail for $24.00 for a 1 . 6 oz jar. First off here's what L'Oreal had to say about this product: "This potent d...read moreaily moisturizer boosts skin's natural powers of regeneration so it regains the qualities of young skin – skin looks rested, smoother and youthfully luminous. Signs of stress, fatigue and aging are visibly diminished. This unique, luxurious formula leaves a light, velvety smooth finish. Apply in the morning to illuminate skin tone. Apply in the evening for overnight recovery." The L'Oreal Youth Code Day/Night Cream has been my go to night time moisturizer for the past several months and I absolutely love it! It provides so much moisture and hydration to my face that it literally feels like my face is thirsty and this cream is giving it water. A little bit of product is all you need to moisturizer your entire face and this is why I have been able to use this tiny jar for a few months because literally a couple of dots of product will do the job. After using this cream for a few months I have noticed that my skin has been looking more refreshed, less dull, less red spots, and overall more vibrant. I do prefer to use this as a night cream because I do feel that it can be too heavy for daytime usage, especially since my face does get pretty oily throughout the day. Although it is a heavier cream, it does dry fairly quickly because the skin absorbs it right up! This is also why i prefer to use it at night, so my skin has at least 8 hours to absorb the cream which in return provides me with the softest and smoothest skin every morning! I am just about done with my little jar of product, and I do plan on buying the full size, although it is $24, it is an amazing deal because the product comes in a huge 1 . 6 oz jar which will last a very long time. If you're looking for deep hydration, a night cream that will provide smooth and vibrant skin then this is the product for you....I highly recommend it!

L'oreal Youth Code

I really liked this moisturizer. It felt light and didn't make my skin feel greasy. My skin was smooth and soft. I just had a sample of it but I plan on buying it. Great product.
Back
to top