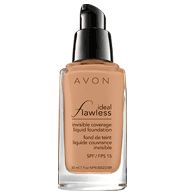 Oily

This foundation gave me great coverage, and has a luxurious thick creamy feel. However it was not long wearing, as it was too oily to last on my oily face during the day. I will save it for drier months.

Hello Yellow

I have the lightest shade in this foundation and it's quite yellow. I'm neutral so it's too yellow for me. It has a good medium coverage and a nice feel when I applied it with a kabuki. But it just melts off my face by lunch, just too oily. I couldn't make it through the whole bottle. Disappointing.

Avon Ideal Flawless Invisible Coverage Liquid Foundation SPF 15

I have been using mineral powder foundation for several years and have been a true believer. Lately, however I've noticed some aging issues that powder foundation simply can't address and in fact will accentuate. For instance, dryness, lines around the mouth and eyes, and slight bagginess in the eye area. In my quest for a liquid foundation, the "extra lasting" aspect of this foundation was app...read moreealing. I have to say now that I love this foundation and for me it lives up to its promises. The coverage is complete without looking like a mask. I barely feel it on my skin. Plus it really does last! Truly! I purposefully left it on my face overnight and woke up to see my coverage was still very much in place. Finding the right shade could be a challenge. I always used the fairest shades with warm undertones and for me nude beige worked beautifully. This is a great value , too when you consider the many sales and discounts you'll find as a regular Avon customer.