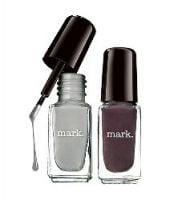 Mark Nailed It Trend Mini Nail Lacquers
As low as
Review subject

Love these! I have purchased three sets so far. The first set I purchased was a Pink/Mauve set. I loved this set! The second was the tropical summer set that contained Mojito (a minty green color), and a Spicy red color. I loved those colors as well, and they were great for summer time. The third was (the set pictured above) was a Grey/Dark Pum color. I'm using this set right now, and love the col...read moreors. The wear time is about 3 days, if you don't use a top coat. I also tried the colors with a top coat, and it lasted about a week. I was a little worried with the first set because of the size of the polish (it's a smaller size than normal)but when I thought about it, I have never actually used a full bottle of nail polish in my life. And, I paint my hands and feet.

eh . . .

I bought the pink/mauve set, and was disappointed at how quickly they chipped away. The colors were pretty, but the staying power wasn't there. I was disappointed :|

Review subject

These were a fun little polish set.
Back
to top