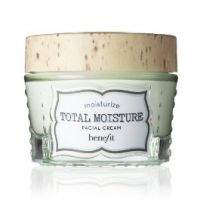 Moisture Cream

Not impressed. There are others in the marketplace that are better. My face did not feel softened like I expected.

Excellent for hydration!

I've been using Benefit products for a while now and love everything I've ever used as far as makeup. When I received this facial cream as a deluxe sample from Ulta, I was intrigued, because I didn't know how Benefit rated in the skincare department. Holy heck! If you have dry skin, you HAVE got to use this moisturizer. It literally gave me so much hydration I took some and put it on my knees and ...read moreelbows because they get dry quickly and I knew this would provide some moisture. First thing I loved about this facial cream, is the adorable packaging that Benefit always makes. A pretty bluish glass jar with a pretty ivory top; very elegant and pretty enough to have on your vanity. I like taking this with me when I drive out of state for work because where I work for some reason dries my skin out so much. This moisturizer is somewhat thick, but dries down nicely and doesn't leave my skin greasy or sticky. You need the tiniest amount to cover your face, but I only use a bit on my cheeks and décolleté as they are dry and the rest of my face is super oily (combination skin.) I tend to only put this on in the evenings before bed or I will get too oily throughout the day under my makeup. I love that I wake up wanting to rub my cheeks and can feel how truly hydrated my skin is. It smells absolutely amazing too; luxurious and classy but not overwhelming in any way. Just smells like a beautifully fragranced facial cream. I was definitely impressed with this product.

An Okay Moisturizer with Some Benefits

This moisturizer is not great. Doesn't moisturize tons, doesn't make your skin amazing, but it does have one wonderful benefit....this is AMAZING under makeup. It moisturizes just enough for the makeup to sink in and look flawless AND natural, so using it once in a while for a date or interview would be a great use of it. But for everyday skin care, I prefer a more deeply moisturizing product with more benefits.
Back
to top