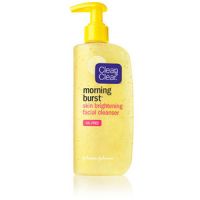 Smells Great, a Little Residue

This is the very first Clean and Clear cleanser I've ever bought, and it was the catalyst behind my going out to buy even more. For the $5.47 price tag, this cleanser is pretty great. The first thing that caught my eye was the label, the bottle, and the scent. According to the label, this cleanser has caffeine, lemon, and papaya to help you wake up. I was a little apprehensive about having caffein...read moree on my face. I wasn't sure if that was an effective way to wake me up. However, what heavenly scent was inside of the cute, sturdy, yellow bottle definitely woke up my senses. It's this sweet, fresh, and citrusy scent. It's really hard to describe, but it's amazing. The cleanser itself is really nice as well. It's thick, but it means that one little dab is enough to create a thick, rich, foamy lather that will cover my entire face. My pore pad creates the best lather with this in my opinion. This cleanser makes my face feel fresh and clean, but without over drying it, which is good. It does leave a little residue if I don't rinse it off really well, but that doesn't really matter because I use toner right afterwards. The cleanser also has little bursting beads in it, which pop after they come in contact with my face. I'm not sure how well this thing brightens my skin, but it sure makes my skin (and nose) feel good.

Impressive!!!

My skin is so sensitive and i was always trying different face washes to get a perfect match for my skin as everything seemed to make me break out after even one wash. This is like a miracle product for my skin and has a plus point of brightening my face making it look even toned. I would recommend it to anyone which sensitive skin.

eh..

I actually bought this product by mistake, I didnt read the label and confused it for the scrub. This product really didnt do much for me except make me incredibly oily.
Back
to top