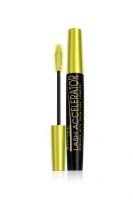 I used it a couple times before discarding

The brush has a very strange shape. One side of it is a sort of typical conical curve but the other side is short flat bristles. I have been using it so that the flat end is brushed across my lashes first and then afterwards I go back through with the conical shape and pull through again. I don't know if this was the plan behind the shape but it seems to work ok. The formula is a liquidy wax. ...read moreI was not particularly impressed with it. When I applied it it clumped my lashes together making it appear that I had far fewer lashes than I actually have. It did make them look a little longer, but only a little thicker – certainly not 10 times thicker like the product claims. It lasted a good 8 hours before flaking, but it did rub off easily if I rubbed my eye lightly. Overall it was one of my least favorite mascaras of the last few months. Would I get it again? No.

Decent product

I like this mascara. I am just slightly disappointed in the brush because it grabs too much product, BUT it does make my lashes look amazing. I will have to use it for a while longer to see if it makes my lashes more 'voluminous' over time, but I do like that it doesn't smear, even on a hot day. It lasts all day and my lashes look thick and lush.

I loved it!

I don't know about others but I really liked this mascara and the way the wand was shaped with one side long strops bristles and the other side short softer bristles. I felt that it really helps to comb through the lashes!
Back
to top