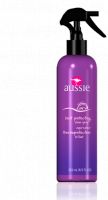 Not good for girls with dry hair

I felt this did not do anything for my hair. Although it did make it sticky and harder to straighten it. The nozzel is very bad and the smell is too strong. You get your moneys worth on this product and not in a good way. Cheap product that does nothing to your hair

Ehh..

The liquid itself works good but the spray nozzle is terrible its not a fine mist its like a straight shooting water gun.... it doesnt coat the hair evenly.... it drenches one little part.... to use the product up i just squirt it in the palm of my hand and then run my hands through my hair. I wouldnt buy this again unless the spray nozzle worked better. Also it smells very chemically... and not t...read morehe regular almost fruity coconut sent that aussie usually smells like... the smell isnt very pleasant

Great product, awkward spray nozzle

I really like this heat protecting spray. I could actually feel a difference in my hair when I first used it. I blow dry my hair every morning, and this has helped keep my hair from drying out. I don't have any heat damage, and I can get a smooth, sleek blow-out every morning with very few frizzies. The smell doesn't bother me. I honestly don't smell it anymore once my hair is dry. The spray...read more nozzle is SO awkward, though. Rather than a mist, it's a jet of liquid. I have to hold the bottle far away from my head so I'm not saturating just one part of my scalp. I usually run my hands through my wet hair and comb it afterwards to try to dispense it evenly. The packaging is the only bad part to this product.
Back
to top