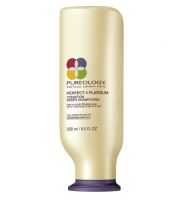 Pureology Perfect 4 Platinum Condition
As low as
This is amazing for highlighted hair

My hair is heavily highlighted in addition to color treated and I heat style several times a week so my hair is quite weak and this conditioner, in addition to the shampoo, keeps my hair strong and shiny and reduces breakage to zero. It has a large amount of protein for strength and I was able to see a difference in just a couple of uses. It keeps my hair supple and soft and I'm able to stay a v...read moreery light shade of blond because of these products. I also use the Perfect For Platinum Cool Tone Enhancing Treatment which keeps my hair from becoming too yellow. These three products work great and they also smell amazing, like all Pureology products. I'm so glad I discovered them. They are the best thing for my hair and I wouldn't be able to do all that I do to my hair without them. I know of no other products quite like them. I've been using them ever since I went a very light shade of blond and even my colorist has noticed a difference. I recommend them for anyone with bleached or highlighted hair.

Blondes: You need this!

I've been using Pureology's Perfect 4 Platinum line for quite a while now and I love how much my hair has improved! It wasn't horrible before but I was using a volume set by Alterna and that wasn't what my hair needed. If you have chemically treated or natural blonde hair this conditioner will restore your hair and make it feel healthier again. Damage comes in all forms and if you have natural ...read moreblonde hair you can still have ample damage from the sun, blow drying, flat ironing, and not protecting it with products. My hair was slightly damaged from highlighting and lowlighting and over the last few months I've noticed huge changes thanks to the pureology shampoo & conditioner. I will say that I feel it works best when used with the Miracle Filler or Reconstructive Mask. I use the Pureology Essential Repair Nano Mask once a week but I spritz my ends with the Perfect 4 Platinum Miracle Filler after towel drying my hair. It always helps to use something after the shower!
Back
to top