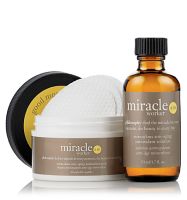 Anti Aging Retinoid Pads

This product did absolutely nothing for my wrinkles. It did not leave my skin feeling good. Perhaps I needed to use it longer than 1 container, but I did not see a glimmer of an effect. I would not recommend this.

Review subject

After about two weeks I noticed a difference in my skin. My overall complexion /tone is so much better. My skin is smoother and my makeup seems to go on a lot better and last a lot longer. I had to start at every other day instead of everyday.

Most powerful product I have ever used!

I tried this as soon as it cameon the market. It came in a set with these pads, a serum and moisturizer. Within 2 weeks my skin had experienced a total transformation. My fine lines and wrinkles around my eyes seemed to be wiped away by these magical pads. The texture of my skin is now like glass. The pores are invisible and I no longer have any blackheads on my nose. I get so many compliments on ...read moremy skin now and that had never happened before! These pads are the magic! For someone in their 20's, I think these would not be necessary. I'm in my 40's and have really enjoyed the power of these 3 products in the kit configuration that I buy. Only draw back - the price for these pads alone is high. Much better to buy them in a kit configuration. This is my desert island product for sure!
Back
to top