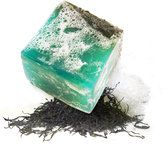 Lush Sea Vegetable Soap
As low as
Drying

A small chunk of this soap was thrown into my bag as a little extra when I made a purchase from a Lush store. To exfoliate, I typically use Lush's Rub Rub Rub, but in between tubs of that I decided to use this sample instead. This soap has a nice, fresh scent and has little bits of what look like hijiki seaweed in it. These bits of seaweed are great for exfoliation. While in the shower I kept ...read morethis piece of soap in an old Lush container which made it easy to access and use. You'll need some sort of soap holder that will keep this from getting too wet when not in use. I liked the feeling of this on my arms and legs and it lathered quite nicely for a bar soap. After rinsing, however, the parts of my skin that I used this on felt really tight and dry. I suffer from extreme dryness on my legs already so this was concerning. I wouldn't even want to continue using this on my arms because it didn't feel nice once I rinsed it off. I am glad that I figured this out by using a sample rather than spending a lot of money on a chunk of soap that I don't have much use for. I will finish off this sample by using it as a hand soap, but only when I have lotion handy for afterwards.

not bad for bar soap

I had a pretty good experience with this product. As far as bar soap is concerned, I thought it was pretty moisturizing! I guess it's all relative? I'm not a huge fan of bar soap anyway, but my friend gave it to me. we used it all up, but I wouldn't buy it for myself. But I wouldn't buy ANY bar soap for myself....so....

The worst soap I have ever used

I am not part of the Lush "cult following", but I bought some of this soap during one of my first purchases from the brand. This was by far one of the worst beauty buys I have ever used. I thought this soap would be great because it smelt awesome, and I liked the exfoliating sea salt on top. I expected fresh skin infused with awesome sea-antioxidant- stuff because the bb seaweed face mask by Lush ...read moreis so amazing. In the shower, immediately after applying, this soap had such a dry and tight effect on my skin, I wanted it off immediately. Quite a few cheap soaps have a tight, sticky feeling after application, so I usually apply shower gel after to get rid of that nasty soap film; that was how this soap was so much worse than most cheap soaps. This soap left such a gross, tight, and sticky film IMMEDIATELY after application that not even shower gel could get it off. I couldn't do anything to get my skin back to normal, even after applying lotion afterwards. I felt so gross all night. I will never buy another soap by Lush again. In short, DO NOT BUY THIS DISGUSTING SOAP!!!!!
Back
to top