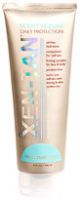 Xen-Tan Scent Secure
As low as
Like Their Other Products Better...

I gave this a try and didn't really like it. For one, the smell was strange. It's hard to describe but I definitely didn't like it. Second, I looked ridiculous after applying this! It's gold-speckled and has a very dark guide. It looked like I had just rolled around in glitter and mud! Lastly, the color it gave me the next day just wasn't very dark. Considering how much it cost, I thought i...read moret would be darker. For what it's worth, I prefer some of their other products better like their Deep Bronze Luxe. Oh well...

Xen-Tan Scent Secure

I love Xen-Tan! I use sunless tanning products all year long and my biggest complaints were that the color could look too orange plus the unpleasant odor that would last for days. I found Xen-Tan and it gives me the most beautiful olive undertone that looks completely natural. There is no unpleasant odor at all, in fact it smells delicious! Occasionally, I will go in to the salon for a spray on ta...read moren, which always leaves me with the lingering odor. The above product called Scent Secure totally blocks that smell and has a wonderful cucumber-melon scent. I use it as a body moisturizer everyday because it is so light, but hydrating. Xen-Tan is amazing!
Back
to top