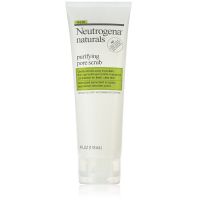 Holy grail product

I love this product! i see an improvement even from the first time i used it. I love the scent it smells lemony and it not too intense for my sensitive skin. I love it! It works great with a silicone pore minimizer. My pores are literally half the size they used to be. I love this stuff. I hope to keep using it for years and years! it does not dry out my skin and it completely washes off. I recommend this product highly!

Wonderful!

This is an excellent daily scrub. It contains willow bark extract which is salicylic acid, it doesn't list the strength, but it's enough. I usually leave my cleanser on a minute or so to let the salicylic acid do its job (as recommended by the derm) and i once forgot i had this on in the shower while shaving my legs, my face started burning and then i remembered i hadn't washed it off! My face was...read more red for a couple hours but didn't peel. The jojoba spheres are super gentle, they've never left my face red from scrubbing. My pores are smaller and my skin is super clear. The smell is also super yummy, like fruit. i hate the texture though, it's kind of like slippery mucus (gross i know) other than that it's awesome!

Best product in this line!

I was already a fan of the Neutrogena Naturals line when I purchased this scrub. It is a complete game-changer for me. My acne has really cleared up since trying the Neutrogena Naturals line, but I was still using a regular Neutrogena face scrub. Switching to this product has made so much of difference in my skin. The product is a little runny (the only complaint I have about it). It's exfoliating...read more, but also incredibly gentle. The Jojoba beads are very small. I feel like I'm buffing or polishing my skin more than scrubbing. From the very first time I used it, my skin felt more smooth. In just a week and a half, I've seen more clear, even-toned skin. Normally I would use a face scub every other day so that I was giving my skin a break without irritating it too much. So far, I've had no problems using this product daily (I like to use it every morning). I'm so grateful for this line. My skin has been very acne-prone and sensitive, but has been really calming down since switching to Neutrogena Naturals.
Back
to top