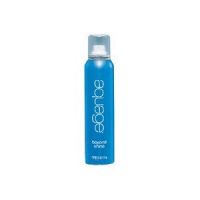 Aquage Beyond Shine
As low as
Secret to shiny, smooth hair

My go to styling spray for whenever I'm straightening my hair. A little goes a long way and the bottle lasts forever. I have thick, but fine hair so only a few (3-4) sprays are needed. After using the spray and straightening, my hair stays smooth and shiny for the whole day and on to the next. Highly recommended for people living in a humid climate or if you have trouble getting smooth, silky hair.

The BEST

I can't believe this product page isn't glutted with glowing reviews! There is only one must-have, won't-leave-the-house-without product in my beauty routine and this is it! My fine hair is flyaway and mildly damaged from years of coloring, but one light misting of this stuff just before straightening and my hair is transformed - into shiny, glossy, silky-soft hair that everyone compliments. It...read more's amazing. A little goes a LONG way, so only a very light mist is all that's needed (too much will give you "the greasies.") Consequently, one bottle lasts a long time, making it a good value. It also protects hair from damage from styling tools. My stylist has thick, coarse hair and she swears by this stuff too, so it apparently works for all hair types. I make sure I always have at least one or two cans in reserve because to run out of Beyond Shine would be my worst beauty nightmare. The down-side is that Aquage is pretty selective about who sells their products and so they can be difficult to find. There is a salon locator on the Aquage web site or you can find their stuff on Amazon.
Back
to top