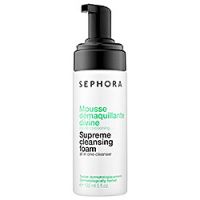 Sephora Supreme Cleansing Foam
As low as
Half successful

I like the smell and feel of this cleanser. Although the foam is very light and seems like it wouldn't be enough, it does get your face clean. I have relatively sensitive skin, and I found this cleanser to be gentle. It does not, however, remove makeup well at all. This will not win the battle against eye makeup, even though I don't use waterproof mascara. There are enough cleansers on the market that cost less and remove makeup for me to not think twice about never repurchasing.

Cleared my skin but left marks

I had somewhat bad acne and I have sensitive skin, so I was trying to find a good cleanser. I got this in a kit, and it after a week my skin was legitimately perfect. There was not one pimple and my redness cleared up. I was so happy! I continued using this "miracle cleanser." After a few days, this HUGE pimple appeared on my chin, so I was like whatever. I left it, and when it finally disappeare...read mored, it left a huge brown acne scar! In the next 3 days, 2 more popped up, leaving scars yet again! But I still kept using it, and no more came. I am still using it, but my skin tone is back to uneven. It has kept pimples away, but the scars are AWFUL and NOTHING will even hide them. FML.
Back
to top