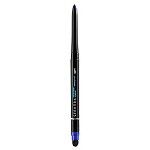 Wet n Wild

I don't think Wet and Wild gets enough respect. It's great for when you want to try something new or you're learning to use makeup-- inexpensive but still pretty good quality, so if you don't like it you haven't wasted a bunch of money, but still pretty wearable. I like this eyeliner a lot.

Pass

I LOVE Wet N WIld, but this eyeliner is just not their best product. It is very hard to apply as other reviewers have stated; you have to press very hard. I didn't notice it staying on longer than any other eyeliner either. But as Little Bunny stated, this is a great budget brand to try and test new products, and many of their products I buy and use every day. This is just not going to be one of t...read morehem! To add, the cap does not stay on the pencil which can be really annoying. It "sits" on top instead.

Reflective of the price

I can always find these eyeliners at a good deal at any drugstore. It's very affordable and I'll buy these if I'm on a low budget. The liner does its job. The only complaints that I have is that it doesn't glide on too easily so you have to press hard and it's very prone to smudging.
Back
to top